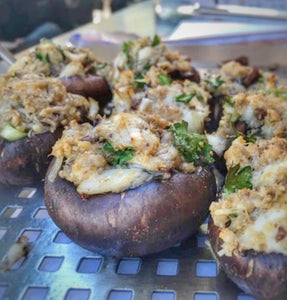 Crab Stuffed Mushrooms on the Big Green Egg ( or any grill ! )
These are an amazing quick, easy and healthy meal to serve as an appetizer or just use a large portobello mushroom and make a meal.
Enjoy !
Ingredients
1 can (6 ounces) crab meat, drained

4 ounces cream cheese, softened

1 tablespoon dried parsley

1/4 cup green onions, chopped

4 tablespoons Parmesan cheese, grated

2-3 portobello mushroom caps, stems removed and finely chopped

2 tablespoons bread crumbs

Olive oil
Directions
Set the Egg up for an indirect cook over medium-high heat (350°F). Grease the bottom of a small, smoke-proof baking dish (a disposable, 9-inch pie pan works fine) with a little olive oil.
** If using any other grill or smoker set up for indirect ( LEGS UP )  **
Rinse of your mushrooms and pull out stems ( Reserve some in a separate bowl  | take a spoon and clean out the inside of your mushrooms. )
In the bowl or a mixer, combine crab meat, cream cheese, 1 -2 teaspoons Caribeque Island Thyme Seasoning, green onions and the diced stems. Mix well to combine.
Stuff the mushroom caps with the crab mixture, top with bread crumbs and a drizzle with olive oil.
Arrange the stuffed mushroom on the baking dish and grill for about 20 minutes, or until the caps are tender and the tops are brown and bubbly.
---