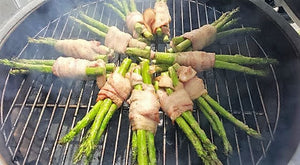 Bacon Wrapped Asparagus of the Big Green Egg!
Ingredients
1 1/2 pounds asparagus spears, trimmed 4 to 5 inches long tips
Extra-virgin olive oil, for drizzling
1-2 packages of center cut bacon
Directions
Preheat your Egg to 350 degrees F. ( Indirect ) 
Lightly coat asparagus spears in extra-virgin olive oil.
Season the asparagus with Calypso seasoning
Take a quick count of the spear tips. Divide the total number by four.
Gather that number of spears and use a slice of bacon to wrap the bundle and secure the spears together. Repeat.
Place bundles on hot grill and cover
Cook 10 to 12 minutes until bacon is crisp and asparagus bundles are tender.
---