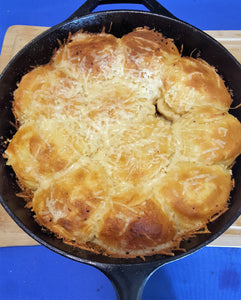 Cast Iron Garlic Parmesan Biscuits
I love using cast iron anytime I can when I cook. I love it even more when I am using it on my Big Green Egg.
I am a firm believer that cooking should be fun. Below is a quick and easy recipe for cast iron garlic parrmesan biscuits that will have your family or dinner guest raving!!
Ingredients:
1/2 cup butter or margarine, well softened
1  clove garlic, finely chopped
3  tablespoons freshly grated Parmesan cheese
1 tablespoon chopped fresh parsley
1 teaspoon of Caribeque Calypso Seasoning
1 can (12 oz) Pillsbury™ Grands  refrigerated buttermilk biscuits
Directions:
Heat egg to 375°F. ( Set up for indirect )
In small bowl, stir together butter , 1 tsp of Calypso and minced garlic.
Remove biscuits from packaging.
On a 10" cast iron skillet, butter the bottom with your garlic butter mixture.
Set the biscuits up in a circular fashion with an inch or two spacing in between.
Bake 11 to 14 minutes or until each biscuit is a deep golden brown and thoroughly baked.
Brush with garlic butter again and top generously with grated parmesan cheese.
Put on egg for under 1 minute just to melt the cheese.
Serve and Enjoy
---