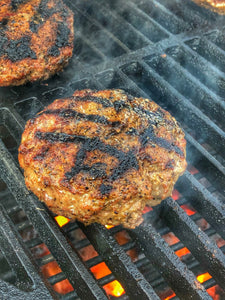 Burger 101 - How to grill the perfect burger!
When it comes to backyard burgers off the grill, we all want the same thing: a tender and juicy burger that we can really sink our teeth into
Ingredients
Divide the meat into 4 equal portions (about 6 ounces each).
Add 3-4 tablespoons of Caribeque Big and Bold Beef
Form each portion loosely into a 3/4-inch-thick burger and make a deep depression in the center with your thumb to 

prevent puffing up during cooking.
Season both sides of each burger with Caribeque Big and Bold Beef
Throw patties in fridge or freezer to firm up
Heat a gas grill to high or heat coals in a charcoal grill until they glow bright orange and ash over.
Brush oil over each side of your burgers 
Grill the burgers

3 -4 minutes per side for 

medium-rare

 or until cooked to your preference

Top with the cheese and any toppings of your choice and enjoy
Different flavorings: Instead of or in addition to the onions and Worcestershire sauce, try stuffing the burgers with things like fresh minced herbs, barbecue sauce, cheese, olives, tomatoes, bacon, mushrooms, or any of your favorite toppings 
Make ahead: The burger patties can be seasoned, shaped, and refrigerated for up to 1 day ahead before grilling. Let the patties sit at room temperature for 20 to 30 minutes before grilling to take the chill off.
---