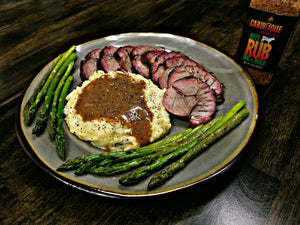 Caribeque Big & Bold Guinness Beef Shanks
Cherry Smoked Caribeque Big & Bold Guinness Beef Shanks.
Ingredients
5 pound bone-in beef shank trimmed of excess fat and silverskin.
2 bottles of Guinness extra stout.
1 medium diced onion.
5 garlic cloves peeled and chopped.
2 tablespoons dried parsley.
2 sprigs of rosemary.
2 tablespoons of olive oil.
2 to 4 tablespoons Caribeque Big and Bold Beef Rub (enough to lightly cover whole beef shank).
Ingredients For Guinness Beer Gravy
4-tablespoons butter.
4-tablespoons all-purpose flour.
1-cup beef stock.
1/2 cup beef shank drippings
1-cup Guinness extra stout.
1-tablespoon Worcestershire sauce.
1/2-teaspoon spicy yellow mustard.
1/2-teaspoon salt.
1/4-teaspoon garlic powder.
1/4-teaspoon onion powder.
Directions
Place shank in a large glass, stainless steel bowl or a large freezer bag, add 2 cups of Guinness beer, onions, garlic, parsley, rosemary, and olive oil. Cover and marinate overnight (12 hours) turning occasionally.
Remove beef shank from marinade and pat dry.(Discard marinade).
Preheat smoker to 250° and add hickory, oak, or cherry wood chunks.
5-Wrap exposed bone tightly in foil. Place beef shank above a drip pan on the smoker and smoke for (4 hours). While mopping with Guinness extra stout every 90 minutes.
When the internal temperature reaches 145° wrap whole beef shank in foil while pouring in 1/2 cup of Guinness stout beer.
Continue to cook beef shank until it reaches 203° internal temperature (7 to 8 hours).
Allow beef shank to rest for one or more hours wrapped.
While beef shank is resting prepare Guinness beer gravy
Gravy preparation
Melt butter over medium heat in a cast iron skillet, whisk in flour. Allow it to cook whisking constantly until roux is browned to your liking.
Slowly add Guinness beer, beef stock and beef shank drippings continuing to whisk.
Add mustard, Worcestershire, salt, garlic powder, and onion powder.
Allow gravy to come to a boil, continuing to whisk constantly. Once the gravy thickens, drop the heat to low, cover to keep warm.
---