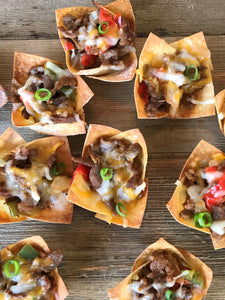 Caribeque cheesesteak wonton cups
Who doesn't like Philly cheesesteaks? Who doesn't like appetizers?
I am bringing you an amazing tailgate snack or just a general appetizer than is super easy to make anytime!
Experiment with different filling that you like......
Ingredients
2 Cups Ribeye Steak

1 Small Onion - chopped

½ Green Pepper

½ Red Pepper

1 cup Colby jack cheese (use what you like)

16 Wonton Wrappers

1 Tbsp Olive Oil
Instructions for wonton cups
Preheat oven/grill to 350°F.

Coat two 12-cup mini-muffin tins with cooking spray.

Gently press 24 wrappers down into each cup.

Lightly spritz wrappers with cooking spray. (sprinkle honey heat rub inside the cups)

Transfer the pans to the oven and bake until the wrappers are starting to turn golden brown and are crispy and bubbling, 8 to 9 minutes.

Let them cool 5 minutes then turn out onto a rack to cool completely.

Repeat with the remaining 24 wrappers.

Once cool, store in a resalable plastic bag up to 24 hours. 
Cheesesteak recipe
Cook your steaks / onions / peppers on the stovetop using the olive oil and season with Caribeque Big and Bold Beef

Once the meat / veggies cook through, toss a tablespoon of the mixture in each wonton cup. Don't over fill the cups
Top with shredded Colby jack cheese

Pop the tray back in the oven/grill 5 minutes for cheese to melt
Enjoy
 
---