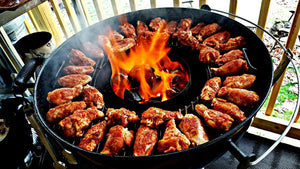 Caribeque Honey Heat Applewood Smoked Wings
Superbowl Sunday is around the corner!
Every party will have wings of many styles and flavors.
Check out this recipe for Honey Heat chicken wings by Caribeque culinary partner Brad Woods!
Ingredients
2.5 to 5 pounds of wings and drumettes.
Directions
Allow to sit in the fridge one hour before smoking.
Prepare smoker/grill for high heat with coals in the center or one side depending on the type of grill you're using.
Set temperature to 425° F.
Arrange wings over indirect heat and add 2 chunks of applewood to the hot coals.
Cover the wings.
Mop with apple juice every 15 minutes until done..Internal temperature of the wings should be 175° to 180° F.
Wings can be seared over the hot coals before removing from the grill,this is personal preference.
Serve with your favorite sides and sauces.
---