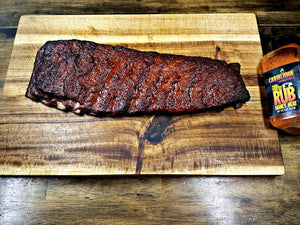 Caribeque Honey Heat Ribs
Everyone loves a good rack of ribs...
Check out this little twist on an old classic that makes the biggest difference in flavor!
Ingredients
1 rack of spare ribs
Cherry Juice
Directions
Remove membrane from the back of the ribs.
Trim ribs into st.louis style or leave them whole..They will cook the same either way.
I trimmed mine..
Rub ribs on both sides with Caribeque Honey Heat..
Allow ribs to rest while you are preparing your smoker.
Set smoker at 250° add 2 or 3 hickory chunks..Apple can be used for a more mild smoke flavor.
Place ribs on the smoker over indirect heat and smoke for 3 hours,spritz every hour with cherry juice.
After 3 hours wrap in 2 layers of heavy duty foil and continue to cook for 2 more hours.
Unwrap after the 2 hours are up and cook and additional hour..Spritz at 30 minutes and again at 1 hour.
Remove from the smoker and allow to rest 30 minutes before serving.
---