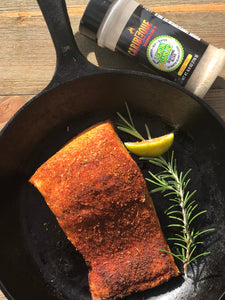 Caribeque lemon / garlic salmon
I love seafood, among one of my favorites is salmon. It is among one of the easiest dishes to prepare on your grill, smoker or in the oven.
Check out this simple 20 minute recipe!
INGREDIENTS
1 Lb Center Cut Salmon (about 16 oz)
2 Tbs Extra Virgin Olive Oil
½ Lemon, sliced and slices halved
INSTRUCTIONS
Preheat oven/grill to 350 degrees. Line a baking sheet with aluminum foil.
Place salmon (skin side down if skin is on) on the lined baking sheet.
Drizzle olive oil on the filet, sprinkle with Caribeque Lemon Garlic Seasoning
Place lemon slices on top.
Bake for 20 minutes. Remove from oven and let rest for 2 minutes, then cut into fillets and enjoy!
---