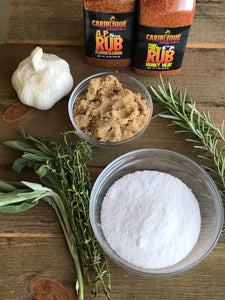 Simple brine recipe ( Turkey / Chicken ) with Caribeque Rubs
Brining poultry is a great way to add moisture to your meat.
Here's a simple, cost effective brine recipe that will keep your turkey moist and juicy.
This produces 1 gallon, which should be adequate to submerge a small turkey or chicken (up to 12 pounds).
Double the recipe for chicken/ turkey up to 20 pounds
Ingredients: 
1 cup kosher salt

1/2 cup granulated sugar or brown sugar

Caribeque Bold Beef OR

Small handful of aromatics (garlic cloves, thyme sprigs, rosemary, sage , lemon or orange zest removed in strips)
Method: 
Combine salt, sugar, aromatics and 1/2 gallon (8 cups) of water in a large pot and place over medium-high heat.
Stir until sugar and salt are dissolved.
Bring to a boil, lower heat and simmer for 5 minutes.
Remove from heat and allow to cool. Stir in remaining 1/2 gallon water (or water and ice) and cool completely.
Pour brine into a large pot or cooler just large enough to hold turkey comfortably. (
Add turkey; add a little more water or ice to submerge it if necessary.
Turn bird a few times and then leave breast-side down in the water; place a heavy plate over the poultry if it floats.
Chill 5 to 6 hours. If you have in a cooler just add ice.
Remove bird from brine, discard brine and roast as directed.
OR
Replace water with beer
---