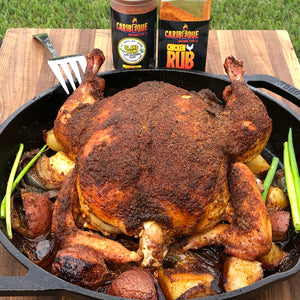 Cast iron whole roasted chicken
If you haven't made a whole roasted chicken well now is the time!
Let's add a little twist and do it all on cast iron!
Ingredients
1 4-6 pound whole chicken ( roaster preferably )
Caribeque Chicken Rub
Caribeque Island Thyme
Olive oil
Cast iron skillet
Red potatoes, Red onions, Carrots ( all options or use your favorite )
Directions
Preheat your grill smoker or oven to 400 degrees F indirect
Rinse your chicken and pat dry. ( If you leave in the fridge for a minimum of 2 hours to overnight this will help make the skin crispy )
Brush your chicken with olive oil and generously apply the Caribeque chicken rub to the outside and in the cavity.
Cube up the veggies of your choice, toss in olive oil and apply Caribeque Island Thyme and place in the bottom of the cast iron skillet
Place your chicken on top of the potatoes and veggies
Cook for an hour and 15 minutes OR until the breast temps out at 165-170 degrees F.
Lets rest 10 minutes and enjoy!!
---