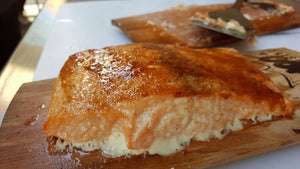 Cedar Planked Smoked Salmon on your pellet smoker!
Cedar Planked Smoked Salmon
Ingredients

Salmon fillets
Teriyaki Sauce
Olive Oil
Maple or Cedar plank (soaked in water for 2 hours or more)
Directions:
Heat your pellet smoker to smoke and smoke for 10 minutes then to 350 degrees. By this time, the fillets will be closer to room temperature
Place fillet on the non-grilled side of the plank and return to the pellet smoker for 15-20 minutes or until the internal temperature at the thickest part of the filet is at least 135 degrees.
Brush with teriyaki sauce in the final 3 minutes of the cook and dust with a few shakes of Caribeque Lemon Garlic to finish
Remove from your pellet smoker, plate and Enjoy!
---