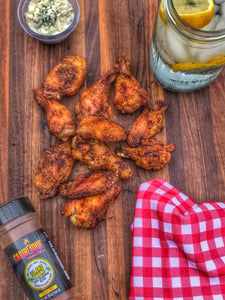 Crispy oven baked or smoked chicken wings!
Wings, that's all I need to say.
This is a very simple way to make crispy wings without frying them!
Ingredients
1 pack of chicken wings ( cut into drums and flats )
2 tablespoons of baking powder
Wing sauce of your choice
Directions:
Preheat oven/grill or smoker to 250°F.
Place a rack onto a cookie sheet.
In a large bowl, toss the flats and drumettes with the baking powder and 2-3 tablespoons of Caribeque Island Thyme seasoning 
Place wings on the rack in a single layer and cook for 30 minutes.
After 30 minutes, leave them in there and raise the heat to 425°F until brown and crispy approximately 40-50 minutes.
Take wings out and let rest 5 minutes
Remove from the oven, toss in the wing sauce of your choice, add celery and blue cheese or ranch dressing and enjoy!
---