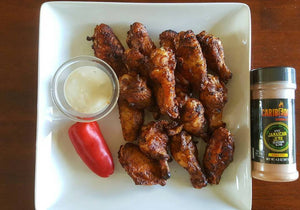 Grilled Jerk Chicken Wings
Who doesn't love chicken wings. We are all used to buffalo chicken wings which are amazing!
Today I give you an island twist of chicken wings... Join me,
Grilled Jerk Chicken Wings
Ingredients:
Pack of chicken wings
1/2 cup of soy sauce
Instructions:
Cut your wings in half ( separate wings from drummettes)
Preheat your grill to 350 degrees and set it up for indirect cooking.
Place wings in a bowl and add soy sauce and toss them.
Place wings on a tray and dust both sides well Caribeque Jamaican Jerk seasoning
Place the wings on your preheated grill and let cook for 20 minutes
Turn wings once and cook for another 18-20 minutes or to an internal temp of at least 170-175 for crispier wings
Remove wings from grill.
To kick them up a notch dust with more Caribeque Jamaican Jerk seasoning
Serve with a side of blue cheese or ranch dressing and enjoy!
---