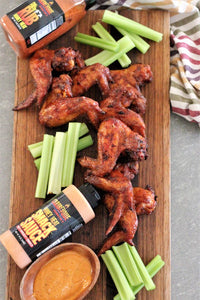 Honey Heat Smoked Chicken Wings from Susie AKA Hey Grill Hey!
Susie Bulloch, who is just an all around amazing person and epic cook on the grill also blogs at Hey, Grill, Hey
The rub is sweet and spicy, every bite is fall off the bone tender, and the little kiss of smoke flavor makes these the perfect wings!
With the the addition or our Caribeque Honey Heat rub and our new Smack Sauce ,Susie's recipe is one for the ages.
Click below for the recipe
Honey Heat Smoked Chicken Wings
---