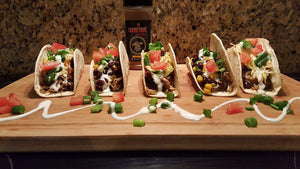 Jerk Pulled Pork Tacos with a Corn and Black Bean Salsa
Ingredients
7.5-10 lb pork butt (also called pork shoulder blade roast, Boston butt)
 1⁄3 cup of Caribeque Jamaican Jerk Seasoning
Coarse salt
2 or 3 chunks of smoking wood (hickory is a natural on pork)
Wrapping liquid ( Apple Juice )
Stonewall Corn Relish
Can of drained and rinsed black beans
Instructions for your corn and black bean salsa
Pour 1 bottle of Stonewall Corn Relish into a bowl.
Open your can of black beans and drain into strainer, rinse with cold water.
Add the black bean to your corn relish and refrigerate.
Instructions for Pulled Pork

Trim excess fat and silver skin. Leave fat cap on one side. Shake a light layer of coarse salt onto all sides of the pork butt.
Cover generously with Caribeque Jamaican Jerk seasoning. Let rub melt in for 20 minutes or more while you prepare EGG.
Prepare fire in EGG, starting with a small amount of charcoal in the firebox. Once all charcoal is burning and EGG has warmed up to 300°F or more, lay wood chunks on coals, and cover with more charcoal to fill firebox.
Add the Plate Setter with legs up and drip pan or foil to catch drippings. Place cooking grid on  Plate Setter legs.
Stabilize EGG at 250°F, and wait 20 minutes or more until smoke is thin with a light smoky aroma. Place seasoned pork butt on grid, fat cap down. Cook for approximately 8 hours, or until outside crust (bark) is caramelized and firm.
After 8 hours, or when the meat reaches 170°F internal temperature, double wrap the butt in heavy-duty aluminum foil. Before sealing foil, pour in peach nectar/hot sauce mixture. For a little extra layer of flavor, grind a couple teaspoons of Dry Rub Seasoning finely and add to liquid.
Return to EGG and cook until 200°F internal temperature in the center. Remove from EGG, cover with towels, a blanket or place in cooler to rest for at least 1 hour and up to 3.
Pull, shred, chop or chunk to your preference. Add a final 2-3 tablespoons of  seasoning to taste.
Take your corn relish/black bean salsa . soft tacos and pulled pork and assemble your tacos.
Enjoy !
---