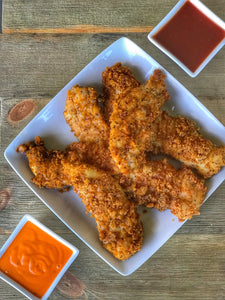 Keto Chicken Tenders
Ingredients
1lb boneless skinless chicken breast
(2 cups) pork rinds/chiccarones
½ cup parmesan cheese
2 eggs
1/2 cup heavy cream
Instructions
* For grills/smokers ( see below )
Preheat oven, grill or smoker to 350 degrees
Crush the pork rinds up until they resemble the consistency of breadcrumbs.
Combine crushed pork rinds with parmesan cheese, garlic powder and 2 tablespoons Caribeque AP RUB
Place the mixture into a bowl, container, or dish big enough to hold all the chicken.
Beat the eggs and heavy cream in a separate container or dish big

enough to hold all the chicken

Dip the chicken in the egg mixture then into the pork rind mixture and place on a foiled lined tray that has a cooling rack on it.
Continue until all of your chicken is coated.
Bake at 350° for approximately 30-35 minutes or until cooked through, flipping once.
You can serve over a salad, with veggies or alone with your favorite sauce!
* For grills/smokers follow the same instructions be sure you are cooking indirect!
Enjoy
---