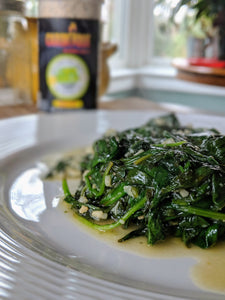 Keto Sauted Garlic and Spinach
I absolutely love spinach in all forms.
Check out this amazing recipe from Shawn Ramsey!
Ingredients
8 oz Fresh Baby Spinach
2 tbs Olive Oil
6 Cloves of Garlic (minced)
Directions:
Pour the olive oil into a large sautee and begin to heat up.
Add garlic and saute until fragrant (do not let it burn)
Immediately add spinach and toss to coat with the olive oil and garlic
Add the Caribeque Lemon Garlic and toss to combine.
Continue tossing and cooking until the spinach has cooked all the way down.
Serve and enjoy!
Pro Tip:
Try swapping the
Lemon Garlic
seasoning out with any of the Caribeque seasonings for different flavor profiles!
You can add some fresh squeezed lemon juice over the spinach if you want a little extra lemon flavor!
---