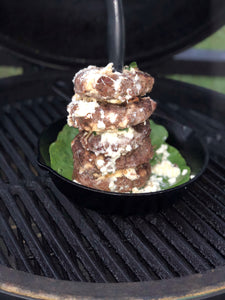 Lamb and Feta Burgers
We love experimenting with all types of proteins.
Today we are going to Greece to make some delicious lamb and feta burgers.
Ingredients
Directions
In a medium bowl, combine the lamb, garlic, feta, Caribeque AP Rub and Caribeque Island Thyme Seasoning, making sure not to overwork the mixture. Form the lamb mixture into 4 to 6 patties.
Heat up your grill to 450-500 degrees just get it hot!
Cook the lamb burgers for about 2-3 minutes each side and turn the burgers over and let cook another 2-3 minutes.
You want to pull them at an internal temp of 130 degrees F  it will continue to rise to 135 - 140 degrees F as you let the burgers rest.
Now take a little extra feta cheese crumbles and spoon them onto the hot burgers
Serve with a salad or on your favorite toasted bun
---