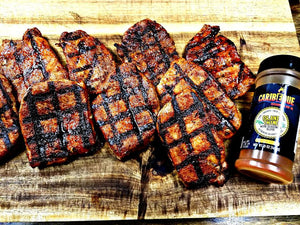 Reverse Seared Caribeque Island Thyme Pork Chops
PORK CHOPS = LIFE 

Brad Woods had created an amazing recipe for Island Thyme Pork Chops
Ingredients
8 Thick Cut Pork Chops
1/4 cup oil
Charcoal
 Directions
Pre-Heat Grill To 275° F.
Place Pork Chops Over Indirect Heat,Cover Grill.
When They Reach 130° Internal Temp.Brush Both Sides With Oil.
Allow To Rest While Coals Are Heating Up To Searing Temps.
Sear Turning Only Once..Remove From The Heat When They Reach 145° Internal Temp.
Serve Right Away With Your Favorite Sides.
---