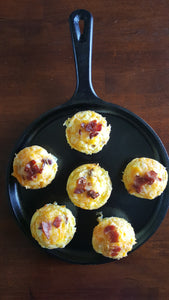 Sausage, bacon , egg and cheese breakfast muffins
I love breakfast food, but I don't always have time to get something made in the morning.
This recipe can be made ahead of time them kept in the refrigerator and reheated quickly in the morning!
substitute or add things that you like ( spinach, ham, onion, peppers etc.)
Ingredients:
1 dozen eggs
1 lb of crumbled sausage
1 bag of shredded cheddar cheese
6-8 strips of bacon ( crumbled )
1 can Non stick spray
Directions:
Preheat grill/oven to 350 degrees Lightly grease 12 muffin cups with.
Place sausage in a large, deep skillet. Cook over medium high heat until evenly brown. Drain and set aside.
In a large bowl, combine eggs and Calypso seasoning mix well.
Spoon 1-2 tablespoons of sausage into each prepared muffin cup top with shredded cheddar cheese
Bake in preheated grill /oven for 25-30 minutes( if grilling, GRILL INDIRECT), until egg has set and a toothpick inserted into each muffin comes out clean.
Top with more cheddar cheese and crumbled bacon and serve!
---