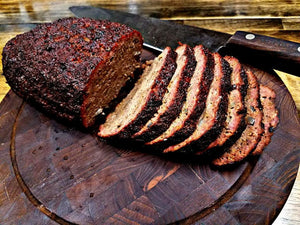 Smoked Meatloaf
Caribeque meatloaf is a hearty classic comfort dish that you can do on any grill or smoker!
Thank you Brad Woods for this wonderful recipe!
Ingredients
1.5 pounds of lean 85/15 ground round beef.
3 tablespoons Caribeque 

Big and Bold Beef Rub

1 medium diced onion
1/2 cup ketchup
1/2 cup milk
1 cup dried bread crumbs
2 beaten eggs
Directions
Apply the additional Caribeque Big and Bold Beef Rub to the entire outside of the meatloaf.
Smoke at 250° over indirect heat,using hickory or your wood of choice..I used hickory...
Smoke approximately 4 hours or until internal temperature reaches 160°.
Allow to cool for 30 minutes before slicing.
---