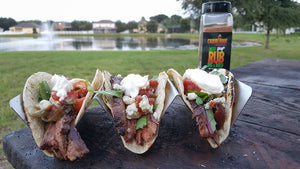 Steak and Blue Cheese Soft Tacos (Black and Blue soft tacos)
Ingredients
1 flat iron steak
Shredded lettuce
Blue cheese crumbles
Corn or flour tortillas
Salsa
Sour cream ( Optional )
Instructions
Get your flat iron steak to room temperature and cover liberally on both sides with Caribeque Big and Bold Beef seasoning
Preheat grill to 425F. Grill for 3-4 minutes on each side for a medium rare done steak. Remove from grill and let meat rest for 5 minutes before cutting.
Cut into thin strips.
Place tortilla rounds on the grill and flip over every 15-30 seconds ( 2 to 3 times) turning 45 degrees for grill marks..
To make tacos, open tortilla, top with steak slices , lettuce, salsa. Add sour cream if you choose
Top with blue cheese and serve!
---