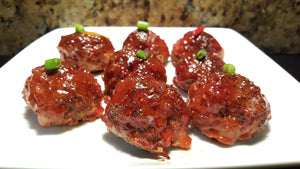 Whiskey / Bourbon Meatballs
Whiskey and Bourbon seems to go hand in hand with bbq.
As the holiday season approaches , I came up with a twist on a classic for your holiday table!
Lets dive into these Whiskey / Burboun Meatballs.
Ingredients:
1 pound ground beef 
1 whole egg
1/2 cup Ketchup ( I use low sugar )
1 teaspoon honey
1/4 cup Bourbon/ Whiskey
1 teaspoon Fresh Lemon Juice
1 teaspoon Worcestershire Sauce
Recipe:
Preheat oven/smoker or grill to 375 degrees
In a medium bowl combine the ground beef , egg and 3-4 Caribeque Bold Beef Rub.
Shape into meatballs ( the size is up to you )
Place in your cooker indirect / or if in the oven on a sheet tray
Cook for 25-35 minutes ( keep an eye on them  every cooker has a different heat zone)
Combine the lemon,Worcestershire Sauce, ketchup, whiskey or bourbon and honey together and whisk.
In the last five minutes brush your meatballs with the whiskey glaze.
Cool and plate!
---